Oscar-participant Narcosis releasing in Dutch theatres this week
18 October
It's finally time! This week, on the 20th of October, the film Narcosis, directed by Martijn de Jong, featuring Thekla Reuten and Fedja van Huêt, will release publicly in almost 40 cinemas in the Netherlands.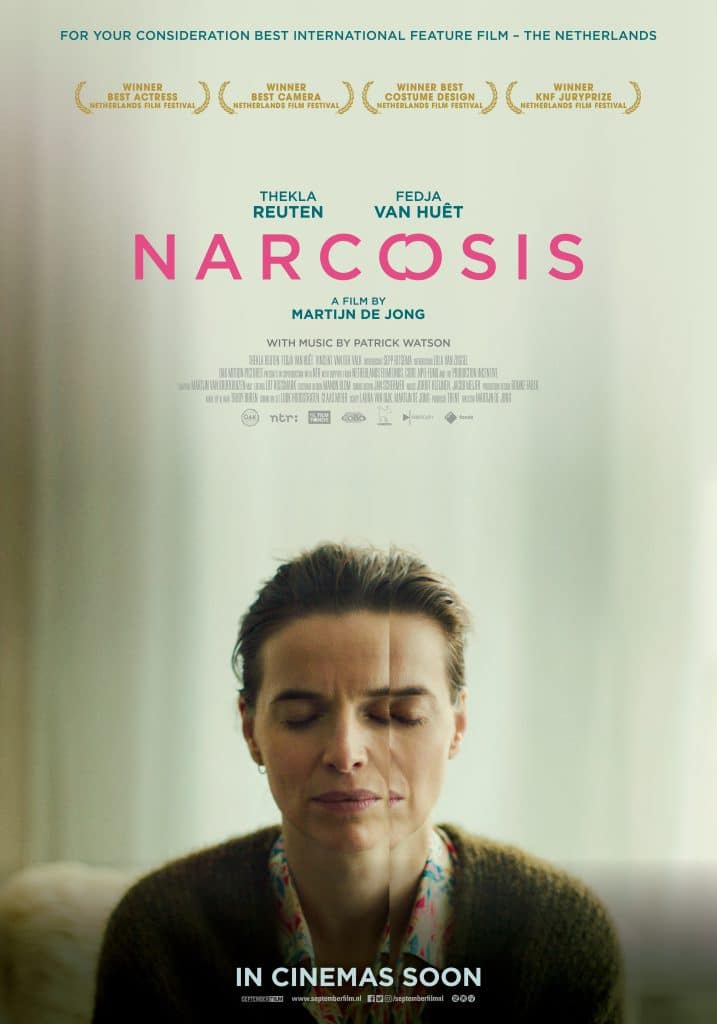 For those who can't wait until Thursday, we have Dutch (no subs) public pre-screenings below:

Monday 17th
11.15 Amsterdam, Cinecenter => Click here
Wednesday 19th
14.45 Leeuwarden, Slieker => Click here
Narcosis will be screened in the following cities:
Alkmaar
Amersfoort
Amsterdam
Apeldoorn
Arnhem
Bergen
Breda
Bussum
Delft
Den Bosch
Den Haag
Deventer
Doetinchem
dordrecht
Eindhoven
Enschede
Groningen
Haarlem
Helmond
Hilversum
Leeuwarden
Leiden
Maastricht
Nijmegen
Rotterdam
Sittard
Tilburg
Utrecht
Wageningen
Zaandam (from 27th)
Zwolle
We will update this article once we have the final list of cinemas featuring Narcosis as from the 20th.
Stay tuned on our following social media accounts for updates on the cinema list, coming talk shows with the cast and other news about the film:
You can access the film IMDb page here, And the Letterbox film page here. If you have an IMDb account, we would be thankful if you can review Narcosis once you've watched it.
Following our renowned adult leading casts, we are also very proud of our first-feature actors Lola van Zoggel and Sepp Ritsema. It's an incredible opportunity for them to launch their careers by representing their home country Netherlands in the Oscar race. We do hope you will love their acting performances in Narcosis.
See you on the other side of the screen.